Thought of the Day…It's always a good time to meet new friends! ~Unknown
Java over at Never Growing Old is hosting a Follow Friday 40 and Over. She has a linky with a list of several bloggers who are 40 and over. I've joined in the fun. I am participating and will give a list of few that I stopped by later today. Stop by and see what they have to say.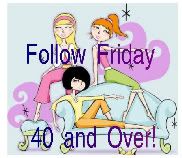 But before you go, join in my Fabulous Friday Mingle; see the Linky below.
In the meantime, I hope you have a Fabulous Friday!

The RULES to join in are very simple and easy to follow!

1. Add your link to the list by clicking on Linky link below; Linky is open through Sunday, 10-Oct.

2. Visit two blogs and leave a comment with [Found you on TooMuchToDoSoLittleTime.com Fabulous Friday]. Then come back here and leave a comment with the blogs you visited and what you liked about it.

3. When your comment here, leave a comment telling us what you plan to do this Fabulous weekend.